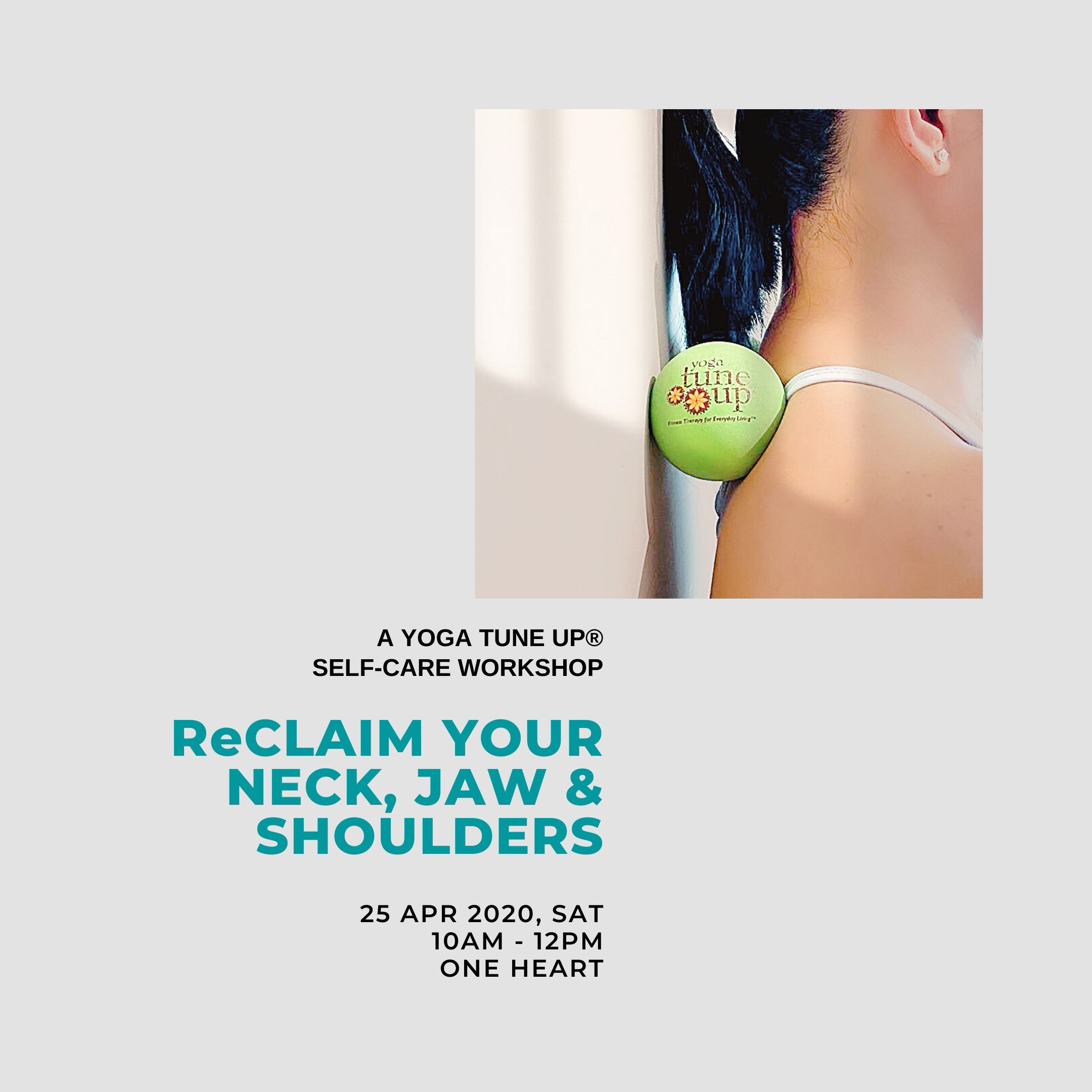 A Yoga Tune Up® Self-Care Workshop 
ReCLAIM YOUR NECK, JAW and SHOULDERS
Hello! I'm so happy to be offering a Yoga Tune Up® workshop in April focusing on neck, jaw and the shoulders!
ReCLAIM YOUR NECK, JAW & SHOULDERS is a combination of Myofascial Self Massage + Muscle Mobilisation + Release & De-Stress with Yoga Tune Up® Therapy Balls.
Everyone has pesky tense shoulders! And what goes on in the shoulders, affects the neck and jaw; what goes on in the neck and jaw also affect the shoulders. Learn and experience how to create more mobility and ease in these parts of your body! You can finally say OOOHHH with joy!
👉In this 2-hour workshop, we will explore the muscles (jaw, neck and shoulders) and movements that create stability in the shoulder girdle, increase range of motion, strengthen these muscles and establish a deeper connection to your body and its anatomy.
👉Experience some enlightening moments as we use the grippy Yoga Tune Up® therapy balls to roll and massage, release and mobilise tight spots, reduce pain and de-stress while learning how to take care of your body.
Now, who doesn't want to feel better?! Bring your friends and family along. This is a wonderful opportunity for them to learn how to release some of the aches away.
👉This workshop is open to everyone, especially if you are a human being, a couch potato, or a desk huncher. 
Absolutely no yoga experience is necessary – everyone is welcome!
Date
25 April,  Saturday. 10am – 12pm
Location
ONE Heart
37 Tembeling Road
Singapore 423580

For parking and how to get there there: https://oneheart.sg/contact/

Price:
S$88
(includes a pair of Yoga Tune Up® Therapy Balls)
To reserve your space:
Please pay via PayLah or PayNow to 98719291
 
As space is limited, send me a message before you sign up for the workshop to be safe. 

Payment via PayLah or PayNow to 98719291. I will hold your space for 30 mins.

Send a screenshot of the transaction made.

Please state number of people attending; their names; contact numbers and email addresses