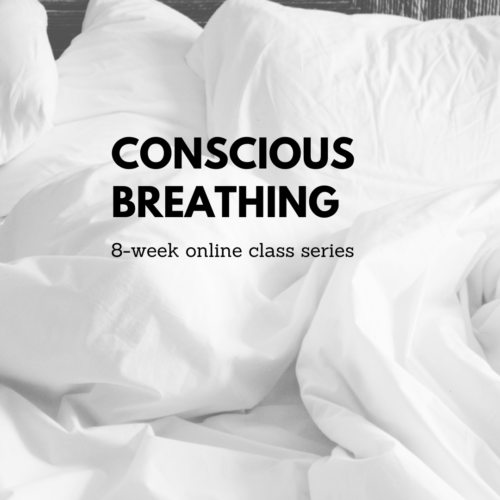 CONSCIOUS BREATHING: 8-WEEK CLASS SERIES (online)
Improve your breathing, build up the immune system and reduce your stress levels in just 60mins a week.
Join me for one hour a week and I'll help you …
improve your breathing with simple breathing practices

 

release muscle tension so that you'll feel better
enhance your mobility through slow gentle movements

 

strengthen and retrain the breathing muscles to engage more efficiently

Save your space below and how up for the Conscious Breathing 8-week class series and get started on breathing your way to better health.



Dates & Times
60mins class every Wednesday, for 8 consecutive weeks*.
Starts: Wednesday, 8 September, 8.30pm (GMT+8)
Can't attend a class or join the live class? A 7-day replay is included for all the classes.
*This is a series of 8 consecutive weekly classes. No drop-ins or single sessions are allowed once the series starts.
A few of the things we'll cover:
Simple and short breathing practices that:
enhance focus
reduce stress
facilitate better rest


energise (without caffeine)

Exercises to engage the breathing muscles
Muscle releases to specific areas of the ribs and shoulders
Slow gentle movements to encourage spaciousness and breath flow
Absolutely no yoga experience is necessary – everyone is welcome!
This series of classes is for you if:
You're a human being and want to:
Take charge of your own well-being and health.
Feel better in your body, move with more ease and mobility.
Tried of being in chronic pain and discomfort.
At a loss about where, how or what you can do to breathe with more ease.
Feel better in just a few minutes
Simple and effective exercises and movements that actually do work
Understand your habits (why and what) that are producing the constant discomforts
Release tension, knots and stress
Relax and slow down 
If you're in the office and want:
Easy and effective tension release exercises to do while at work
More energy and better posture through breathing
Lessen the tension in the lower back
De-stress
Better sleep
Less aches and pains