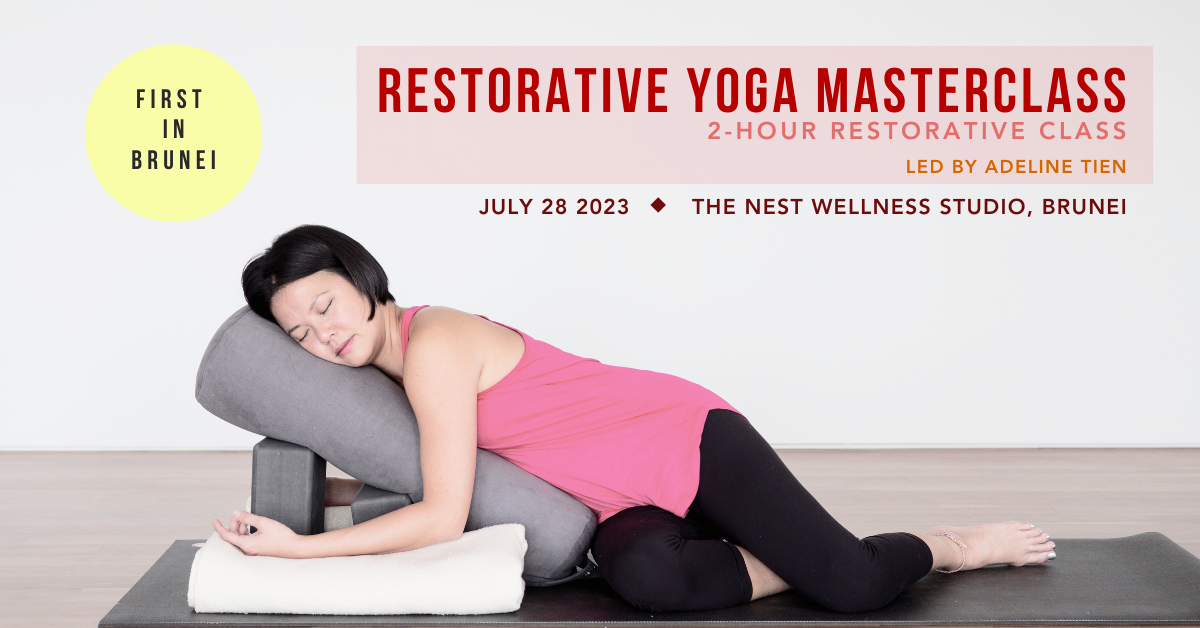 RESTORATIVE YOGA MASTERCLASS IN BRUNEI, July 29 2023
Always wanted to fnd out what Restorative Yoga is all about?
For the first time in Brunei, we will be having a Restorative Yoga Masterclass!
This is a special 2-hour class where we will take time to:
Gently apply the brakes to your busy life and enjoy the slowing down process.
Unwind tension through slow movement and breaths.
Pause the constant chatter in our minds.
Experience weightlessness. Discover the feeling of  being supported by the yoga props.
Let the muscles and bones release their weight.
Create ease in the breaths.
*As a special bonus, attend this masterclass for free, when you enroll in the 10-hour Restorative Yoga Training (29-30 July).
What is Restorative Yoga?
Restorative Yoga is the practice of intentionally resting over support so that we can identify and release unnecessary effort and tension.
Well-placed props such as bolsters, blankets, blocks, chairs and eye pillows are used, to safely support the body in various poses, with as little effort as possible.
Resting this way relaxes the body, eases the breath and calms the mind.
This activates the Relaxation Response which counters the stress response.
Therefore, Restorative Yoga is the antidote to stress!

This masterclass is for: Anyone and everyone!
Learn more about restorative yoga.
Lower stress levels; sleep better, and feel more rested.
Experience what conscious rest feels like.
Create ease and comfort during times of injuries (eg. an injured knee), chronic pain or when getting the body comfortable is challenging, such as after a surgery.
TRAINING DETAILS

Friday 28 July 2023
3 – 5pm
*Please sign up by 20 July
INVESTMENT
S$50
Cash payments
Money transfer to BIBD or Baiduri account 
Please sign up by 20 July
Payment to be made to:
ZETI AMIN
+673 8890229
zetireza@gmail.com
VENUE
Unit 1, 1st Floor, Arches Building
Spg 235, Jln Pasar Gadong
BE1318, BSB
Brunei Darussalam
INFO & REGISTRATION
Contact ZETI AMIN
+673 8890229
zetireza@gmail.com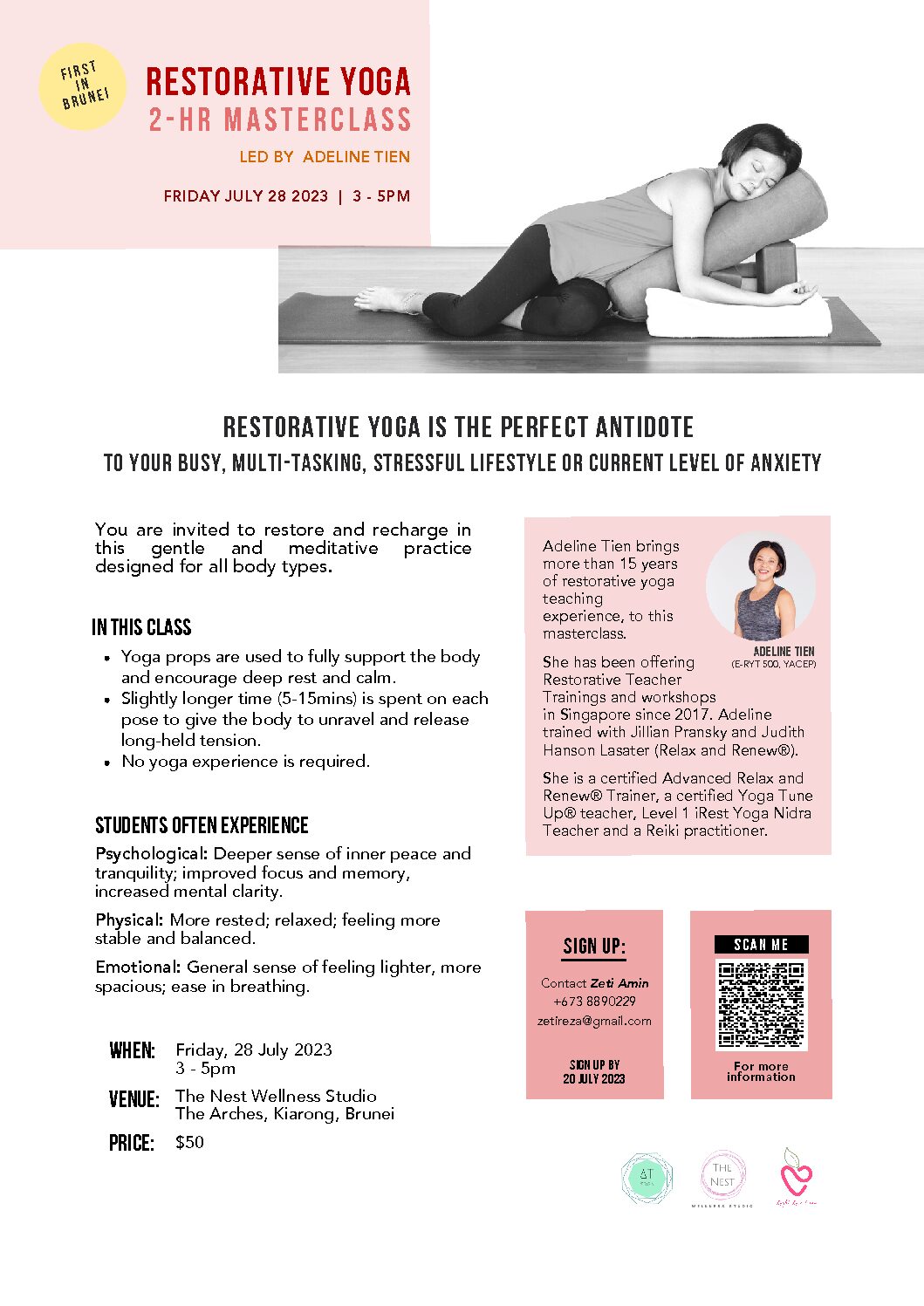 Can I do this class if I have not done Restorative Yoga before?
Yes. This class allows you to immerse yourself in the restorative yoga experience. You do not need to have any yoga experience to try Restorative yoga or to take this class.
What If I am really stiff and inflexible?
It does not matter if you're stiff, inflexible or new to yoga. Restorative Yoga supports your body with blocks, blankets, bolsters, pillows and other any props you need, in order to for you to be comfortable to relax into the pose. In fact, it's a style of yoga that people who are stiff and inflexible really enjoy.
Do I have to bring any props for the class?
The Nest Wellness Studio will provide most of the props such as bolsters, blocks and blankets.
It's a good idea to bring along something for warmth (shawl, sweater).
Can I attend this training if I am pregnant or injured?
Yes, absolutely! We welcome all mummies and daddies to the class. It's a wonderful time to rest, tune inwards and connect with the baby.
If you are injured or are facing limited mobility, please reach out to ZETI AMIN
+673 8890229
zetireza@gmail.com
who will be able to you advise you further. It is my hope to offer Restorative Yoga to everyone, regardless of their mobility abilities.
What is the age range and group size?
The age group varies from 20 – 70 years of age. Class size will range from 9 – 20 participants. 
What happens if I've paid but cannot attend the class?
Your class payment is non-refundable. As numbers are limited in this class, this payment secures your place. Should an emergency arise and you are not able to make it for this training, please contact
ZETI AMIN
+673 8890229
zetireza@gmail.com
About Adeline Tien
Adeline Tien (E-RYT 500, YACEP), has been teaching Restorative Yoga since 2008 and brings more 15 years of restorative yoga teaching experience, into this training.
She conducted Singapore's first Restorative Teacher Training in 2017.
She trained with the amazing Jillian Pransky and the knowledgeable Judith Hanson Lasater (Relax and Renew®).
She is a certified Advanced Relax and Renew® Trainer, a certified Yoga Tune Up® teacher, Level 1 iRest Yoga Nidra Teacher and a Reiki practitioner.
Adeline has been practising yoga since 1994 and teaching yoga since 2002. Her students often describe her as a teacher who keeps the yoga practice safe, with simple, clear and precise instructions.
She hopes to change the mindset that "you have to do more, to be productive". Why not try "Do more by doing less"?
If only we all took the time to rest, we could bring about transformation of the world, with one restorative pose at at time.