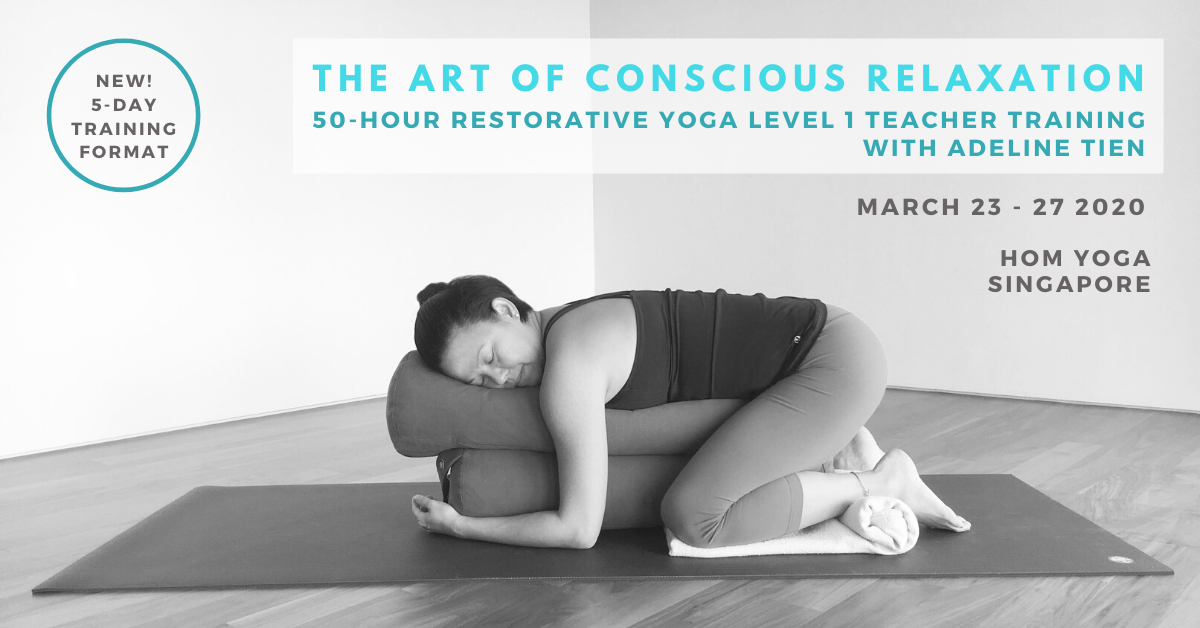 THE ART OF CONSCIOUS RELAXATION

Join us for a brand NEW 50-hour Restorative Yoga Teacher Training Level 1 with Adeline Tien.
This revised Restorative Training features 5 days of immersive restorative practice and more time to explore the beauty of rest. We listened to the feedback and comments of past trainees and decided to add in two more extra days for a deeper experience.
Understand the science behind Restorative Yoga, and learn the artful skills of practising and teaching this wonderful restful style of yoga…

Restorative yoga is the antidote to stress. It is a practice that encourages relaxation and release of deep layers of tension, with support, awareness and intention. Well-placed props such as bolsters, blankets, blocks, chairs and eye pillows are used, to safely support the body in various poses. This deep, purposeful, and mindful kind of rest alters and lowers our stress responses and helps us to function better physically, mentally and emotionally.

LEARN
Why Restorative Yoga and Yin Yoga are different
A set of restorative poses, using a variety of props
How to teach a restorative yoga class
Art of sequencing and class planning
Excellent for new and experienced yoga teachers who wish to teach restorative yoga classes, or incorporate restorative poses into their regular yoga classes and anyone interested in leaning more about restorative yoga.
50 hours of Continuing Education Units (CEUs) with Yoga Alliance