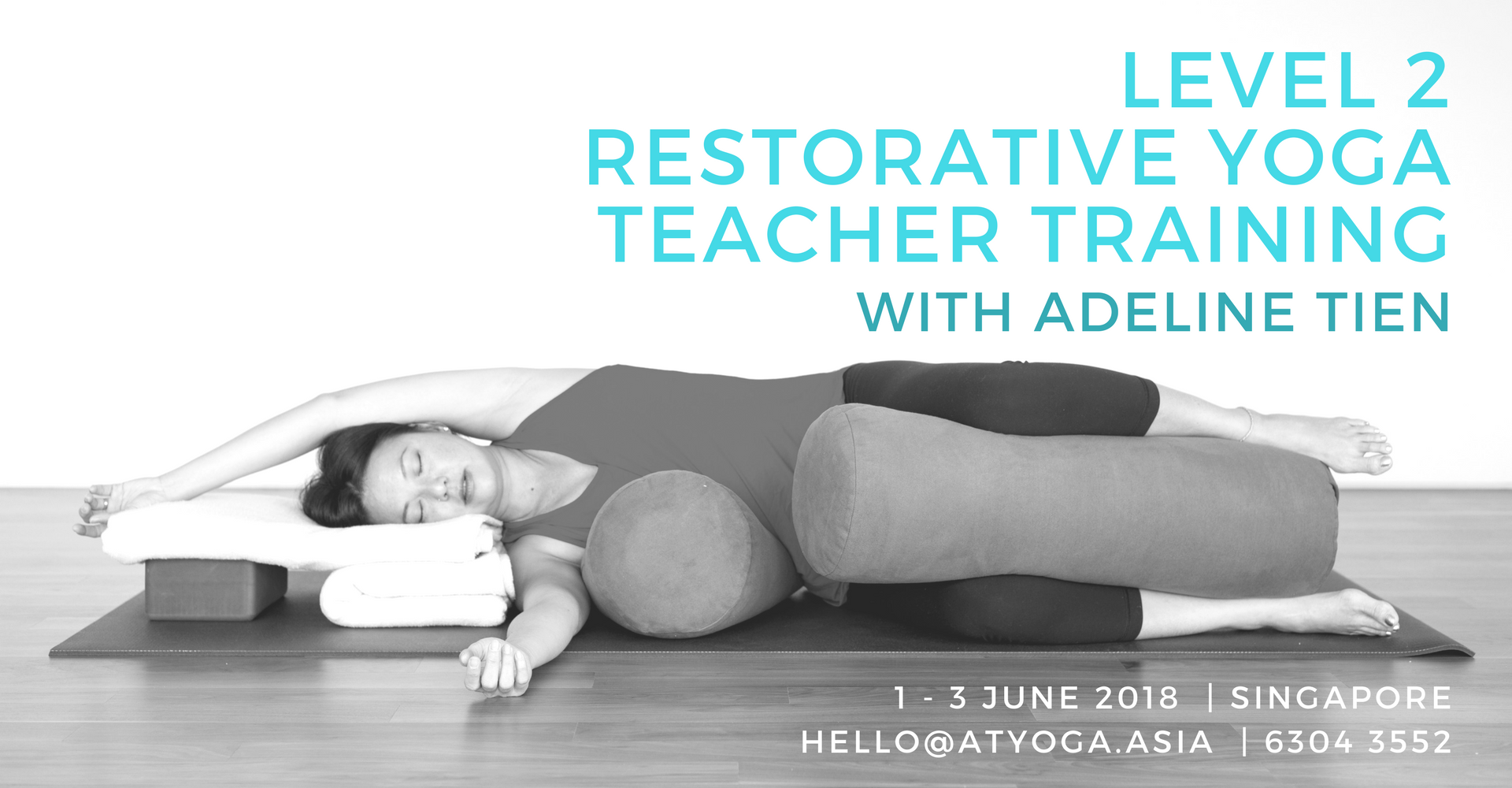 Deepen and grow your knowledge and skills of using Restorative Yoga for therapeutic applications. We will explore how to use restorative poses that benefit chronic pain or illness, injury, depression, anxiety, emotional challenges and other stressors.
**Please note you must take or have taken the Restorative Yoga Level 1 Training with Adeline in order to register for Level 2** 
YOU WILL LEARN :
The neurology, physiology and emotions of illness and healing
How to support the body to aid physical, physiological and emotional healing
Offering and adapting therapeutic restorative work to various environments such as beds, chairs, and during medical treatment
Hands-on touch techniques to aid relaxation and healing
Language guiding cues and imagery for progressive relaxation
Therapeutic applications for chronic stress related illnesses, post-surgery healing, fertility and digestive issues
THIS TEACHER TRAINING WILL :
Equip you with the confidence to create and guide a customized Restorative Yoga practice for yourself and your private students
Further your experience, knowledge and skills to offer this practice to a wider range of settings, illness and injuries
PREREQUISITE :
TOTAL OF 30 HOURS OF CONTINUING EDUCATION UNITS  (CEUS) WITH YOGA ALLIANCE
(For 200-hour certified yoga teachers, this module counts as 30 hours towards a 300-hour certification with Space & Light Yoga)
24 hours class contact time
6 hours non-contact home assignments (*)
*A Certificate of Training will be issued only upon the full completion of 30 hours
TRAINING DETAILS
Friday 1 June 2018
9am – 1pm
2pm – 6pm
(*note the timing)
Saturday 2 June 2018
9am – 1pm
2pm – 5pm
Sunday 3 June 2018
9am – 1pm
2pm – 5pm
INVESMENT
S$920 Early Bird (Full payment by 5 May 2018)
S$1,150 Regular price
*All prices are inclusive of GST.
VENUE
COMO Shambhala Urban Escape
402 Orchard Road, Level 6, Delfi Orchard
Singapore 238876
INFO & REGISTRATION
COMO Shambhala Urban Escape
+65 63043552
Adeline
+65 98719291
hello@atyoga.asia