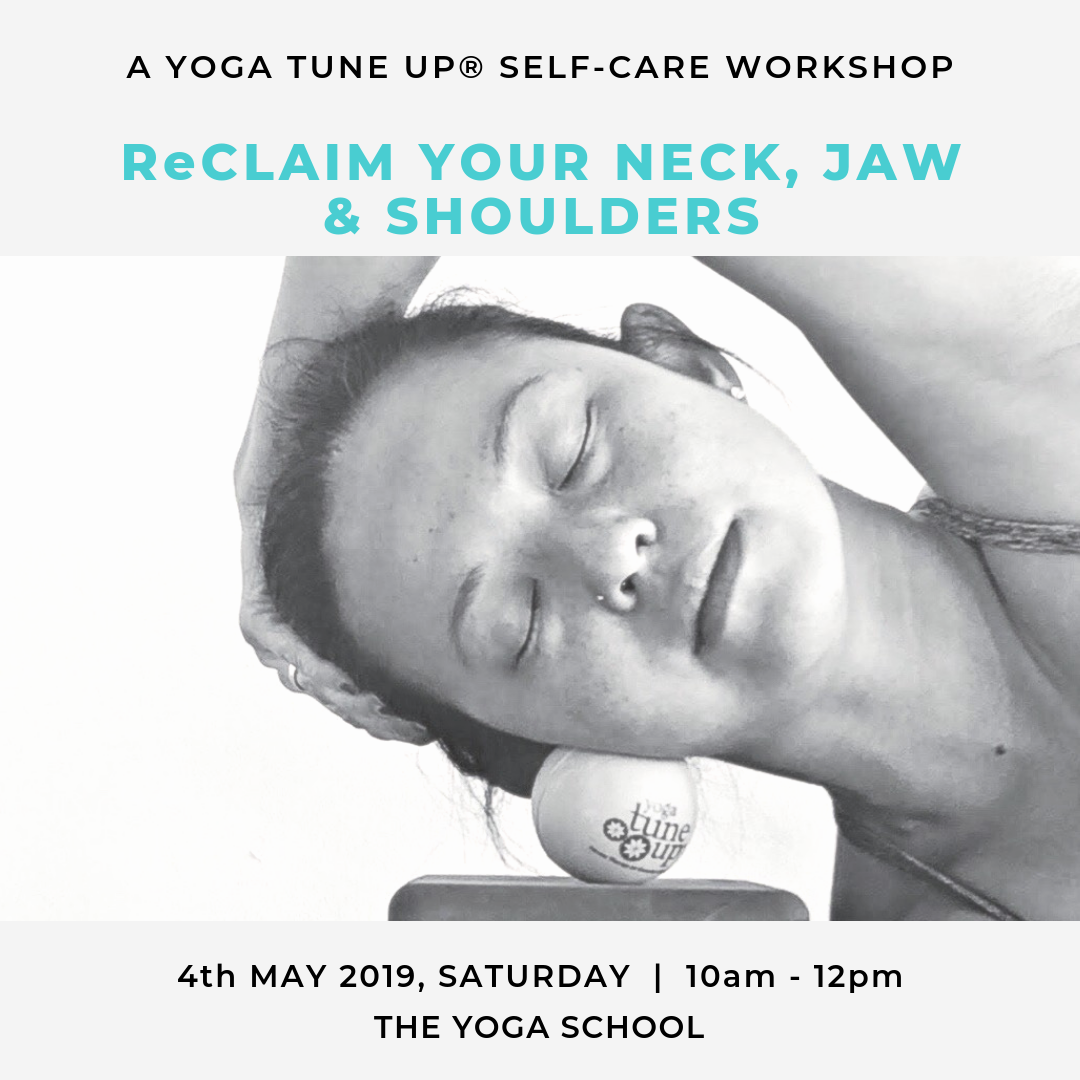 A NEW Yoga Tune Up® Self-Care Workshop 
ReCLAIM YOUR NECK, JAW and SHOULDERS
Do you experience chronic tension in the shoulders, jaw and neck? Do you feel that these areas often need to be stretched out?
The way we hold carry ourselves (bags on the shoulders, babies, or looking at a computer screen, or time spent on a mobile device) create all sorts of imbalances in the structures of the shoulders, neck and jaw. These imbalances often lead to postural changes such as forward head position, rounding of the upper back, and even lower back discomfort. Over time, these imbalances can affect our moods, lead to greater discomfort and reduced mobility.
In this 2-hour workshop, we will explore the muscles (jaw, neck and shoulders) and movements that create stability in the shoulder girdle, increase range of motion, strengthen the muscles and establish a deeper connection to your body and its anatomy.
Experience some ooohs and ahhhs as we use the grippy Yoga Tune Up® therapy balls to self massage, manipulate and mobilise tight spots, reduce pain and de-stress while learning how to take care of your body.
Know of someone who might benefit from learning how to release those tight achy spots? Sign up with your friends. You'll be in for an awesome treat, I promise.
Absolutely no yoga or other experience is necessary – everyone is welcome!
Date
4 May, Saturday. 10am – 12pm
Price:
S$78
(S$82.56 w/ GST)
(includes a pair of Yoga Tune Up® Therapy Balls)