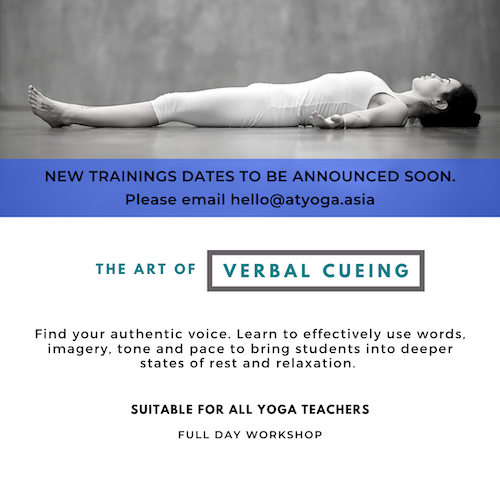 THE ART OF VERBAL CUEING FOR SAVASANA AND RESTORATIVE POSES
"Words have energy and power with the ability to help, to heal, to hinder, to hurt, to harm, to humiliate, and to humble."
-Yehuda Berg
The words that come out of our mouths, have the power to cut like a knife, or caress a wound with compassion and love. Learn, explore and gain new understanding on the many layers of using words, imagery, tone and pace to effectively communicate with your students. Allow the language that you speak to welcome them into deeper states of rest and relaxation.
This training is specially intended for yoga teachers, mindfulness practitioners, healers and caregivers of all genres to enhance your listening and verbal skills. Learn how your choice of words affect and effect the person or the class that you are communicating with, physically, emotionally, spiritually, energetically and mentally.
Develop skills to offer amazing transformational savasana and rest; restorative classes; relaxation practices and meditation sessions.
In this hands-on, experiential training, you will learn:
How to skilfully choose words to create safety and release

Craft imagery to enhance your student's journey of rest

The art of sequence instructions to allow for the connection with the ground and the breath

How to create a pace and tone, and use of silence to convey spacious and healing.

How to create a safe environment that welcomes students of all levels and body types

Exploring the nervous system

The stress response vs the relaxation response

Techniques to guide students into states of deep relaxation
At the end of the training, you will leave feeling more enriched and confident in guiding students. Your careful choice of words, observation skills and personal intentions will allow them to fully move in, towards healing and rest.
** You DO NOT have to be a Restorative Yoga teacher to attend this workshop. We welcome all who are interested in learning how words, language and imagery can affect and effectively illicit a shift of the mind towards calmness and relaxation.
THIS TRAINING GOES HAND IN HAND WITH THE ART OF HANDS-ON ADJUSTMENTS AND THERAPEUTIC TOUCH which is usually conducted the next consecutive day. 
8 hours of Continuing Education Units (CEUs) with Yoga Alliance

TRAINING DETAILS
TO BE ANNOUNCED
If you are interested in attending this training, please send me an email: hello@atyoga.asia