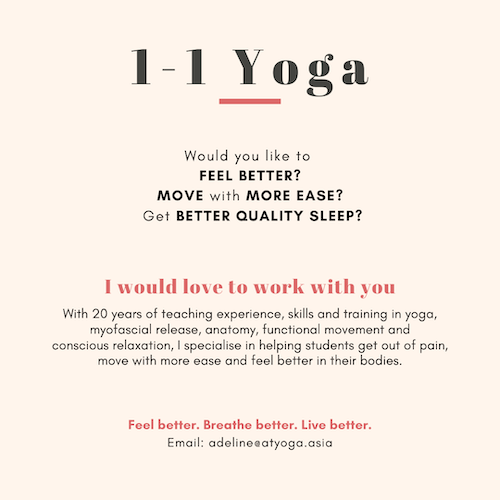 I love helping students get out of pain!
Would you like to find out what's going on with your injury?
Or what is causing that pain/pull in your body?
Perhaps you are looking for alternative therapeutic and healing options to support you through medical treatments and challenging phases of life?
As you already know, I love all things to do with anatomy, movement,  the body and most importantly, helping people get out of pain. If you would like to find out what is going on with a long standing injury or pain, or something that happened just yesterday or from years ago, I'll be happy to help you.
Many students usually approach me after a class to ask me about their injuries. Unfortunately, due to time constraints, I am not able to help much. I highly recommend that you make an appointment to see me for a personalised 1-1 session.
It hurts and frustrates me when I hear comments that students have to live in pain; or accept that this (their injury) is how things are, or that the doctors themselves say that there is nothing they can do and may not offer ways to manage/rehab the current pain and discomfort. I am quite sure that there ARE things that can be done to manage that knee / shoulder / hip /_______  (name your body part) pain or discomfort.
I specialise in utilising 20 years of teaching experience, skills and training in yoga, myofascial release, anatomy, functional movement and conscious relaxation to help students heal, move and feel better in their bodies.  I have helped many students, their friends and family members, out of this thing called Pain. I have also worked with clients – pre and post medical/surgical treatments for cancer, depression, anxiety and stress-related dis-ease, to experience more balance and calm in their daily lives.
So let's have a chat, and see how we can work together.  Each session will last about 45 – 60mins. The session may be conducted at your place (additional transport cost applies) or at a private clinic practice at Chinatown Point.
Please send me an email: adeline@atyoga.asia
Feel better. Move better. Breathe better. Live better.