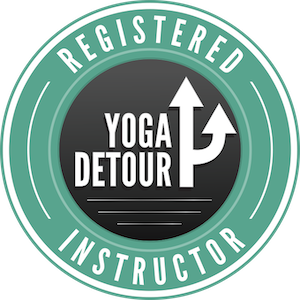 I am so happy and excited to announce that I am a Registered Yoga Detour™️ Instructor (RYDI)

The RYDI designation is given to those who demonstrate a high level of engagement with the Yoga Detour™ community. They undergo rigorous training and commit to continual life-long learning across various movement disciplines.
In March 2019, I started with Detour Method Online, which lead me to a 5-day immersion in Melbourne in February this year, and then to a more intensive training – Detour Method Synthesis, during the circuit breaker lockdown period. I wanted to make as much use of the time that I had, not running around from studio to studio teaching, to enrich and further my teaching.
Read more about my journey with Yoga Detour™ here. 
---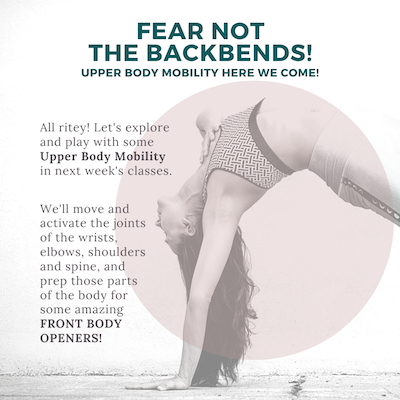 Do you dread hearing the word "backbends"?
Does your back hurt each time you try to "bend" it? 
I believe that all backbends should be Front Body Openers – not just chest openers, because that label of Chest openers limits it only to the chest. And do a safe front body opener, we need more than the chest and back muscles. 
Join me for a class/classes this week as we journey into front of the body – a part of the body that we often protect from hurt and shame.
Here are a few resources to give you a little idea of what backbends really are.
---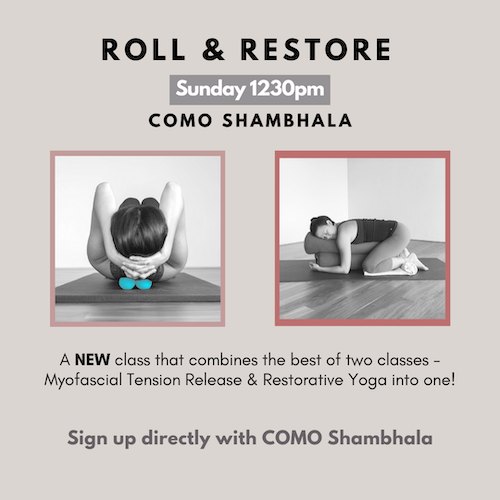 lNEW class at COMO Shambhala – Roll & Restore
Day: Sunday 
Time: 12.30pm
This class combines the yummy goodness of tension release self-massage through ball-rolling and sweet luxurious supported rest in restorative yoga. Just when you think that a Restorative class could not get any better! Everything you need for this AH-mazing class will be provided at the studio. You only need to bring yourself, and a towel.
To book your mat space (class sizes are limited due to social distancing), please call: 6304-3552.
**For those of you who are new to myofascial release  – here's the link to my website for a little bit more information about tension release through self-massage and ball-rolling. 
See you next Sunday!
---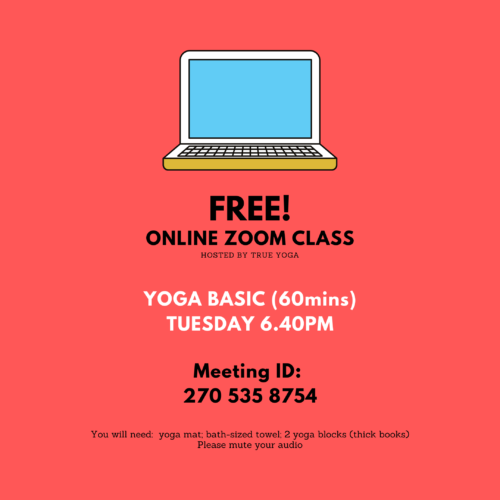 FREE online class via Zoom continues every Tuesday!
True Yoga will be live-streaming my YOGA BASIC class, every Tuesday at 6.40pm.
The meeting ID is 270 535 8754
It is hard to book a (limited) slot for in-person practice at the studio with the social distancing restrictions. That's ok! Practice with me, in the comfort of your own home instead.
You will need:
– A yoga mat
– Bath-sized towel
– 2 yoga blocks (thick books)
Please ensure you mute the audio when you join the meeting. Video mode is not compulsory.
See you on Tuesday!
---
Class schedule for 10 – 16 Aug 2020:
MONDAY
2.40pm   Myofascial Release (True Yoga Pacific Plaza)

4.20pm   Hatha Vinyasa (True Yoga Pacific Plaza)

8.30pm

Yoga Tune Up® Myofascial Release at

(

ONLINE

)
TUESDAY
10am Slow Flow Yoga Deconstructed (

ONLINE

)

1.30pm Myofascial Release (True Fitness Great World)

6.40pm Yoga Basics (True Yoga Pacific Plaza) – also livestream via Zoom. ID 270 535 8754

8.40pm (45mins) Hatha (True Yoga Pacific Plaza)
WEDNESDAY
THURSDAY
2pm Hatha Vinyasa (True Yoga Pacific Plaza)

5.30pm Myofascial Release (True Fitness Novena)

 
SUNDAY
Sign up here for online classes.
---
How to book an

online

class?
I have tried to keep it as simple as possible to book classes with me. Click HERE  to view all the classes I am teaching.
Choose a class, day, time, date.
Make the necessary payments. Payments details are listed in there too.

Local payments – Paylah, PayNow.
International payments – PayPal (class rates are slightly higher due to the Paypal charges)

Inform me when payment has been made so that a meeting link can be sent to you.
That's it!
My class schedule can be found here – Adeline's Online Classes
---
 A little guide to the classes that I offer
I am offering the 4 types of  classes:
Ashtanga Yoga Deconstructed – A class that is targeted at how to injury-proof your practice, get stronger, more informed about what the key actions are for the poses and explore a different approach to the ashtanga set sequence. Not for beginners. You should be familiar with the ashtanga sequence (half primary) or power yoga classes. *Otherwise known as the Ashtanga Led class at True Yoga.
Slow Flow Yoga Deconstructed –  A flow class where pose shapes and actions are broken down, given a new spin and then integrated into the sequence again. The focus is to develop an informed yoga practiced based on various movement patterns, which will hopefully leave you stronger. Some yoga knowledge is necessary, preferably the basic yoga poses. *(Similar to Intro to Hatha Vinyasa & Hatha classes taught at True Yoga and Build/Flow classes at The Yoga School). I have just extended the Sunday class to 90mins for those who would like a longer practice.
Yoga Tune Up®  Myofascial Release & Self Care –  also known as Myofascial Release at True Yoga or Ball-rolling to some. If you are not a yoga person, but do sports and other forms of activities; hunched over the desk or slouched posture, this is the perfect class to release tension and ease tightness. Similar to foam rolling but with the added benefit of precision, targeted release and muscle activation work to strengthen. Suitable for everyone.
Restorative Yoga -A wonderful restful class focused on rebalancing the stress levels, recalibrating the nervous system and relaxing the whole body. Good for calming anxiety, better sleep and allows the body to be in a more relaxed state. Suitable for everyone. Give this class a try!