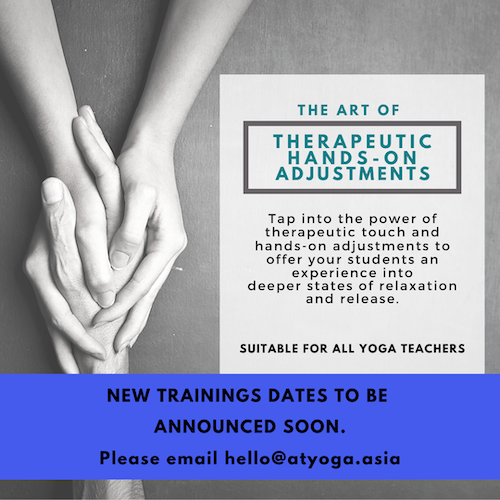 The Art of Therapeutic Hands-On Adjustments
"Too often we underestimate the power of touch, a smile, a kind word, a listening ear, an honest compliment, or the smallest act of caring, all of which have the potential to turn a life around."
— Leo Buscaglia in The Way of Conflict
A full day of experiential learning and training designed to help you to tap into the power of therapeutic touch and hands-on adjustments to offer your students an experience deeper states of relaxation and release.
Learn how to observe and sense the body's energetic and physical state and needs. Discover how to use therapeutic touch, and hands-on adjustments to create more ease and comfort. Each trainee will discover their own authentic style and confidence in offering such adjustments in their classes.
In this experiential training, the topics include:
Simple therapeutic touch techniques that can be used during Savasanna or a Restorative pose

Creating support to release tension and freeing up the breath

Various hands-on adjustments and therapeutic touch for the limbs, head and body

Crafting a safe environment that welcomes students of all levels and body types

Working with injuries and illness

Establishing safe and respectful boundaries
This training is specially intended for yoga teachers, healers and caregivers of all genres to enhance the quality of your touch. Learn how the touch of your hands (with kind intention) can therapeutically release layers of tension.
** You DO NOT have to be a Restorative Yoga teacher to attend this training. We welcome all who are interested in learning how using hands through touch, can allow for support in the body, breath and mind.
THIS TRAINING GOES HAND IN HAND WITH THE ART OF HANDS-ON ADJUSTMENTS AND THERAPEUTIC TOUCH which is usually conducted the next day. 
8 hours of Continuing Education Units (CEUs) with Yoga Alliance
TRAINING DETAILS
TO BE ANNOUNCED
If you are interested in attending this training, please send me an email: hello@atyoga.asia