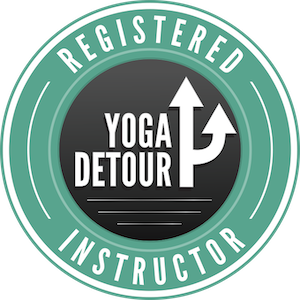 I am so happy and excited to announce that I am a Registered Yoga Detour™️ Instructor (RYDI)
The RYDI designation is given to those who demonstrate a high level of engagement with the Yoga Detour™ community. They undergo rigorous training and commit to continual life-long learning across various movement disciplines.
Registered Yoga Detour™ Instructors possess the skills and know how to offer recognised Yoga Detour™ classes and workshops. In addition to their Detour-Informed training, these instructors teach from a place of Educational Empowerment (EE): An ability to communicate expertise and encourage curiosity in student-centered learning and discovery. RYDIs merge yoga asana with intentional, creative approaches to strength and mobility, creating classes and workshops that prioritise sustainability and movement longevity.

Why Yoga Detour? As the name "Yoga Detour" suggests, it's teaching yoga through a different lens and emphasis on empowering students to trust their themselves and their bodies. I've never really taught yoga the way that most teachers teach it- I throw in a mish mash of this and that in my classes. So it is really refreshing to finally meet others (Yoga Detour) who think and teach like me 🙂

In March 2019, I started with Detour Method Online, which lead me to a 5-day immersion in Melbourne in February this year, and then to a more intensive training – Detour Method Synthesis, during the circuit breaker lockdown period. I wanted to make as much use of the time that I had, not running around from studio to studio teaching, to enrich and further my teaching.

You may have discovered that I teach a little "differently" these days. There are a lot more moments and opportunities for intentional exploration and reflection on how you move, and why moving in other ways may be more beneficial than to be stuck and rigid in a pose. You may have realised there are more "bits" thrown into a class, along with a few yoga poses. All in the name of discovery and creating more possibilities instead of the "no…the pose should always be done this way". There is no right or wrong in movement. 🙂

I hope to establish and develop a space/environment wheres students feel supported to ask questions about how they move, or playfully challenge the (set) patterns of your practice, body and mind.

All my Slow Flow Yoga Deconstructed (online) are Yoga Detour™ classes. I am slowly incorporating Yoga Detour™ moves and exploration in the Vinyasa and Hatha classes taught at the studios.

Welcome to the world of Yoga Detour™. And I warmly welcome you to join me for a class. 

To read more about Yoga Detour: https://yogadetour.com/