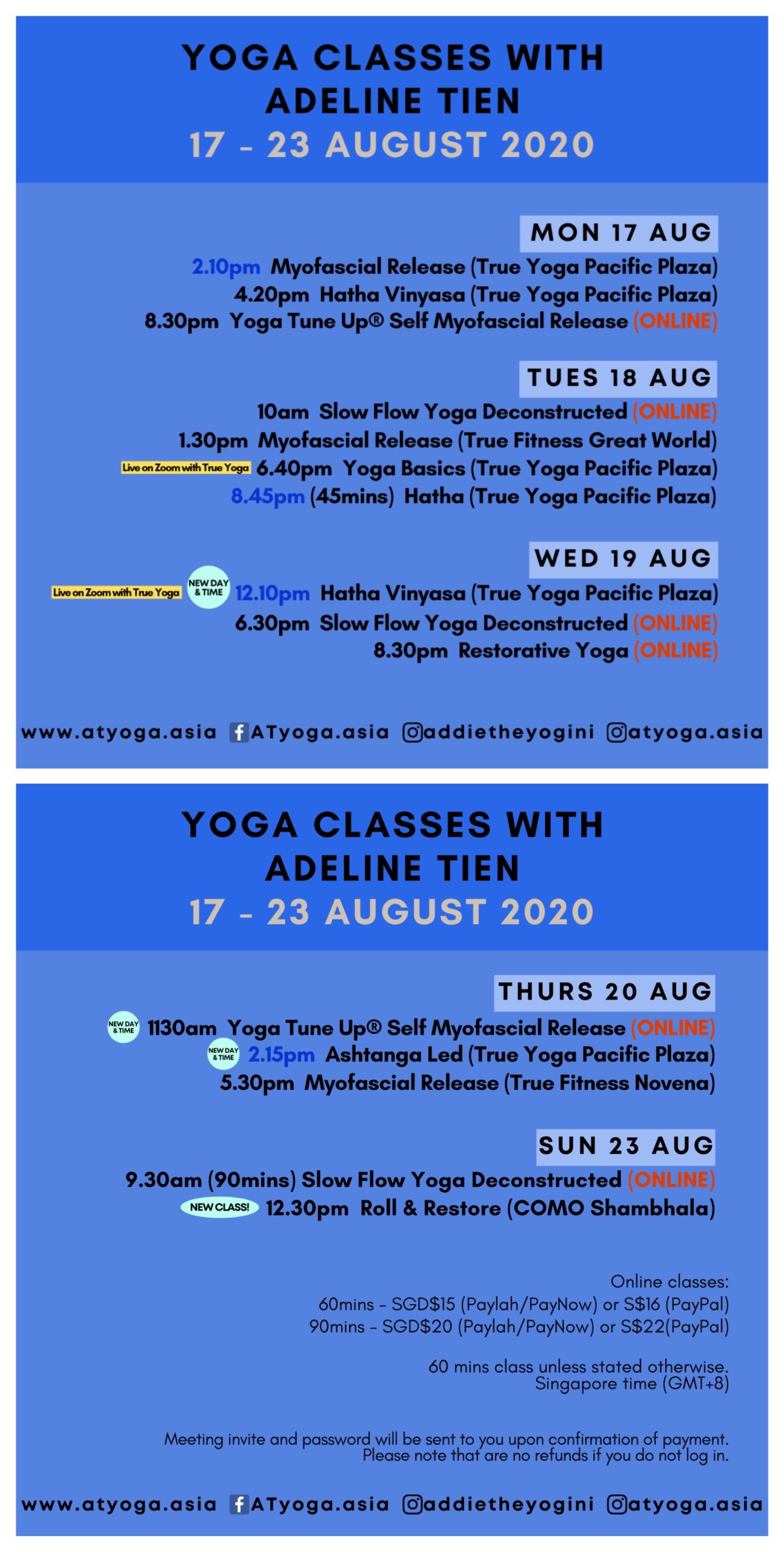 Class schedule for 17 – 23Aug 2020:

Please note that there are a few changes in class times and days for True Yoga studio classes (highlighted in Blue)
MONDAY
TUESDAY
10am Slow Flow Yoga Deconstructed (

ONLINE

)

1.30pm Myofascial Release (True Fitness Great World)

6.40pm Yoga Basics (True Yoga Pacific Plaza) – also livestream via Zoom. ID 270 535 8754
8.45pm (45mins) Hatha (True Yoga Pacific Plaza)  
WEDNESDAY
THURSDAY
11.30am

 Yoga Tune Up® Myofascial Release

 

(ONLINE)   –new day & time!

2.15pm

Ashtanga Led (True Yoga Pacific Plaza) –

new day & time!

5.30pm Myofascial Release (True Fitness Novena)
SUNDAY
Sign up here for online classes.
---
How to book an

online

class?
I have tried to keep it as simple as possible to book classes with me. Click HERE  to view all the classes I am teaching.
Choose a class, day, time, date.
Make the necessary payments. Payments details are listed in there too.

Local payments – Paylah, PayNow.
International payments – PayPal (class rates are slightly higher due to the Paypal charges)

Inform me when payment has been made so that a meeting link can be sent to you.
That's it!
My class schedule can be found here – Adeline's Online Classes
---
 A little guide to the classes that I offer
I offer 4 types of classes:
Ashtanga Yoga Deconstructed – A class that is targeted at how to injury-proof your practice, get stronger, more informed about what the key actions are for the poses and explore a different approach to the ashtanga set sequence. Not for beginners. You should be familiar with the ashtanga sequence (half primary) or power yoga classes. *Otherwise known as the Ashtanga Led class at True Yoga.
Slow Flow Yoga Deconstructed –  A flow class where pose shapes and actions are broken down, given a new spin and then integrated into the sequence again. The focus is to develop an informed yoga practiced based on various movement patterns, which will hopefully leave you stronger. Some yoga knowledge is necessary, preferably the basic yoga poses. *(Similar to Intro to Hatha Vinyasa & Hatha classes taught at True Yoga and Build/Flow classes at The Yoga School). I have just extended the Sunday class to 90mins for those who would like a longer practice.
Yoga Tune Up®  Myofascial Release & Self Care –  also known as Myofascial Release at True Yoga or Ball-rolling to some. If you are not a yoga person, but do sports and other forms of activities; hunched over the desk or slouched posture, this is the perfect class to release tension and ease tightness. Similar to foam rolling but with the added benefit of precision, targeted release and muscle activation work to strengthen. Suitable for everyone.
Restorative Yoga -A wonderful restful class focused on rebalancing the stress levels, recalibrating the nervous system and relaxing the whole body. Good for calming anxiety, better sleep and allows the body to be in a more relaxed state. Suitable for everyone. Give this class a try!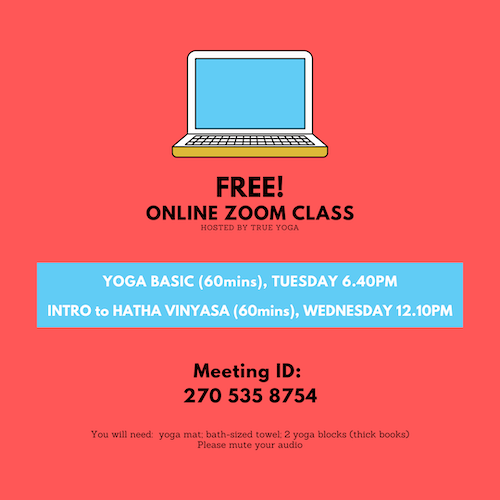 New

FREE online class via Zoom on Wednesday 
Starting this week, (19 August), True Yoga will live-stream my INTRO TO HATHA VINYASA class, every Wednesday 12.10pm. This is in additional to my YOGA BASIC class that is on Tuesday at 6.40pm. Yay!
The meeting ID is 270 535 8754
It is hard to book a (limited) slot for in-person practice at the studio with the social distancing restrictions. That's ok! Practice with me, in the comfort of your own home instead.
You will need:
– A yoga mat
– Bath-sized towel
– 2 yoga blocks (thick books)
Please ensure you mute the audio when you join the meeting. Video mode is not compulsory though it'll be nice to see your lovely faces rather than empty black/blank screens.
See you on Tuesday/Wednesday or both days!
---