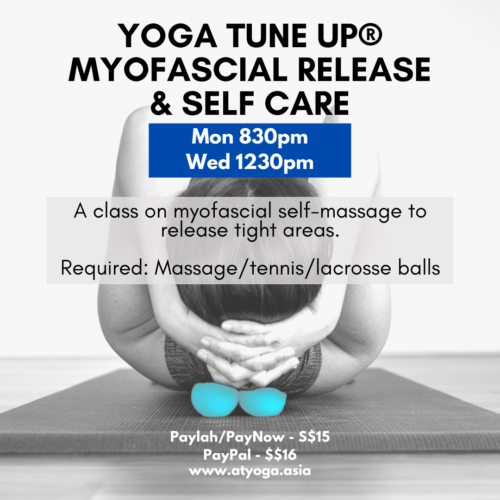 Just a couple of changes to the class schedule this week – with TWO new online classes.

NEW! Online classes:
I will be teaching offering these two online classes
Monday 8.30pm

Yoga Tune

Up®

 Self-Myofascial Release
Tuesday 12.30pm

Yoga Tune

Up®

Self-Myofascial Release
What is Yoga Tune Up® ?
Yoga TuneUp®  is a programme developed around the three P's – Pain, Posture and Performance. It helps eradicate pain, improve posture and enhance performance through a unique blend of Corrective Exercise, Self Massage and Yoga. This program effectively helps you to sense, feel, identify and target your "body blind spots"; areas that are most overused, underused, or misused, YTU heals damaged muscle, increases strength and establishes healthy movement patterns to help you live better in your body.
What is Self-Myofascial Release (SMFR)?
SMFR is a soft-tissue conditioning, self-care fitness format that uses the various Roll Model® Therapy Balls  (or tennis balls/massage balls) for self-myofascial release (self-massage). This may include breath work, CheckIn and ReCheck, elements of alignment, anatomy instruction and mental awareness (such as conscious relaxation).
Self-massage relieves aches and pains, enhances breathing, reduces stress and improves your posture and performance. To understand how it works, you must first understand that the body is made up of multiple layers of connective tissue (fascia) that weaves and winds its way around every part of your body's parts, connecting (and separating) you from head to toe.
Massage Balls improve the slide and glide between the fascial layers which translates into ease of movement, release of tension, and reduction of discomfort. The grippy texture of our massage therapy balls work by gently locking into all the tissue layers, from the surface of the skin, to the spongy superficial fascia underneath, and further within towards deep fascia. As the balls roll along the skin, they create massive shear that heats, calms, and lengthens not only the targeted tissues but the associated tissues as well.
I highly recommend the Yoga TuneUp®  Self-Myofascial Release classes for self maintenance and tune up. Perfect to share along and practice with your friends and family, online, of course. 🙂

Class schedule for 13 – 31 July 2020:
MONDAY
2.40pm   Myofascial Release (True Yoga Pacific Plaza)

4.20pm   Hatha Vinyasa (True Yoga Pacific Plaza)

8.30pm

Yoga Tune Up® Myofascial Release at

(

ONLINE

) – NEW!
TUESDAY
10am 

Slow Flow Yo

ga Deconstructed (

ONLINE

)

1.30pm Myofascial Release (True Fitness Great World)

6.40pm Yoga Basics (True Yoga Pacific Plaza)

8.40pm (45mins) Hatha (True Yoga Pacific Plaza)
WEDNESDAY
THURSDAY
10am

 

(90mins) Ashtanga Yoga Deconstructed (

ONLINE

)
2pm Hatha Vinyasa (True Yoga Pacific Plaza)
5.30pm Myofascial Release (True Fitness Novena)
SUNDAY
Sign up here for online classes.
See you soon, in-person or online. Please take care and stay safe. 
Much love,
Adeline
=====
How to book an online class?

I have tried to keep it as simple as possible to book classes with me. Click HERE  to view all the classes I am teaching.
Choose a class, day, time, date.
Make the necessary payments. Payments details are listed in there too.

Local payments – Paylah, PayNow.
International payments – PayPal (class rates are slightly higher due to the Paypal charges)

Inform me when payment has been made so that a meeting link can be sent to you.
That's it!
My class schedule can be found here – Adeline's Online Classes
=====
 A little guide to the classes that I offer
I am offering the 4 types of  classes:
Ashtanga Yoga Deconstructed – A class that is targeted at how to injury-proof your practice, get stronger, more informed about what the key actions are for the poses and explore a different approach to the ashtanga set sequence. Not for beginners. You should be familiar with the ashtanga sequence (half primary) or power yoga classes. *Otherwise known as the Ashtanga Led class at True Yoga.
Slow Flow Yoga Deconstructed –  A flow class where pose shapes and actions are broken down, given a new spin and then integrated into the sequence again. The focus is to develop an informed yoga practiced based on various movement patterns, which will hopefully leave you stronger. Some yoga knowledge is necessary, preferably the basic yoga poses. *(Similar to Intro to Hatha Vinyasa & Hatha classes taught at True Yoga and Build/Flow classes at The Yoga School). I have just extended the Sunday class to 90mins for those who would like a longer practice.

Yoga Tune Up®  

Myofascial Release & Self Care –  also known as Myofascial Release at True Yoga. If you are not a yoga person, but do sports and other forms of activities; hunched over the desk or slouched posture, this is the perfect class to release tension and ease tightness. Similar to foam rolling but with the added benefit of precision, targeted release and muscle activation work to strengthen. Suitable for everyone.
Restorative Yoga -A wonderful restful class focused on rebalancing the stress levels, recalibrating the nervous system and relaxing the whole body. Good for calming anxiety, better sleep and allows the body to be in a more relaxed state. Suitable for everyone. Give this class a try!