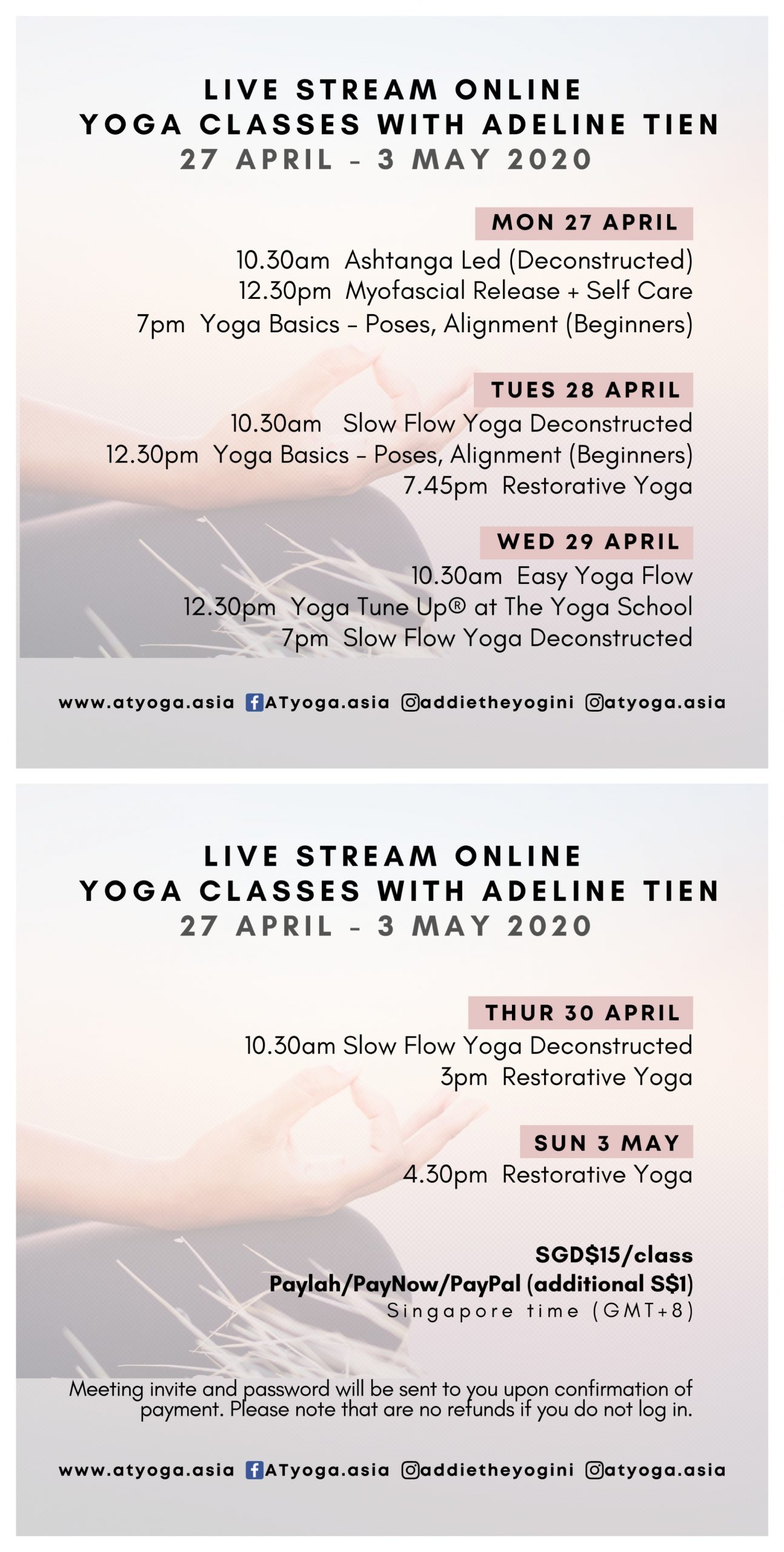 Hey everyone!
Here's my updated online teaching schedule for next week. I've added more 7 classes – bringing it to a total of TEN classes. Hopefully we'll get to meet "face to face" and practice together. Doing yoga alone is fine but practising in a group is a LOT better and more fun, even though it's virtual.
I miss teaching, especially in-person classes; social interactions and connections (laughter, chatting); and physical touch (giving hugs).  However, I am beginning to appreciate how online classes offer a chance for us to interact and connect with each other.  This is the reason why I am offering classes online – to foster care, connection and community. Please join me for a class, and maybe stay for a chat after. I know that I will love to see some familiar faces.
I am offering the 5 types of  classes:
Ashtanga Yoga Deconstructed – otherwise known as Ashtanga Led class at True Yoga
Slow Flow Yoga Deconstructed – similar to Intro to Hatha Vinyasa & Hatha classes at True Yoga
Yoga Basics – great for beginners
Myofascial Release & Yoga Tune Up® Self Care –  also known as Myofascial Release at True Yoga & The Yoga School
Restorative Yoga – give this class a try! It greatly helps in reducing stress levels,  promotes a calmer emotional state and better sleep.
How to book an online class?
I have tried to keep it as simple as possible to book classes with me. Click HERE  to view all the classes I am teaching.
Choose a class, day, time, date.
Make the necessary payments. Payments details are listed in there too.

Local payments – Paylah, PayNow.
International payments – PayPal (class rates are slightly higher due to the Paypal charges)

Inform me when payment has been made so that a meeting link can be sent to you.
That's it!
My class schedule can be found here – Adeline's Online Classes
If you enjoyed my classes, and learnt a lot from them, or would like to share this with your friends and everybody, please do! It would mean a lot to me if you could spread word of my online classes with your friends and family. I am trying to grow my online presence and every little bit of support helps. Thank you so much.
The world needs yoga more than ever, and we can be the ones to help spread the love.
With a grateful heart,
Adeline